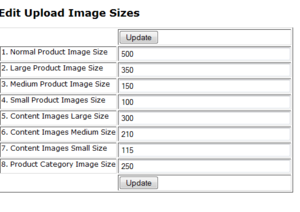 Uploading of JPG, PNG, and GIF is supported.
Using this screen you can control how
images are resized when you upload them.


GlitterPaw supports image file type of JPG, GIF, and PNG.

This setup screen lets you pre-set the sizes the images will be adjusted to during upload. If you look closely you can see this screen lets you change settings for "Product Images" and "Content Images."

You can also change the target images sizes on the Uploader screens before requesting an upload.

Sizes or all the other image uploaders are set on those uploader screens. Those include the Blog, Articles, Newsletters, and Ads.