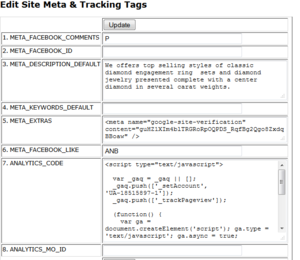 Simple screen to edit global meta tags.

We'd rather see you manually edit the SEO tags on every page of your website, but if you don't have the time you can use these global meta tags.

Every time GlitterPaw displays a page it looks into the Global tags, Page tags, Product tags, and Blog tags. It uses the appropriate Per Page Meta Tags.

If all the meta tags are blank then GlitterPaw attempts to Auto-Fill the Meta Tags.