SEO features of the Navigation Screen.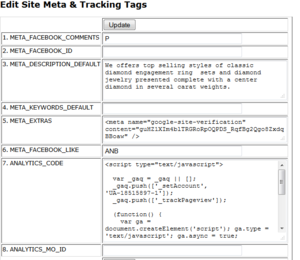 SEO Features are a component of the G.P.S.

• SEO features are everywhere.

• URL control

• Built in sitemap generation

• Googlebot tag control

• Robot tag settings

• Built-in Meta Descriptions for every page and product item.

• Built-in Meta Keywords (if you still use them) for every page and product item

• Helpful internal linking through a dropdown menu.

• Ability to paste in any other meta tags
specific field for Google Webmaster Tools verification tag

• Easy to assign an management account to your SEO company so they can work on your website

• Easily rebuild pages to create new file time stamps to help Googlebot realize when you change content. This prevents the 304 Not Modified issue that other CMS' have.

• GlitterPaw development changes every time Google makes a recommendation. New changes are available all the time.