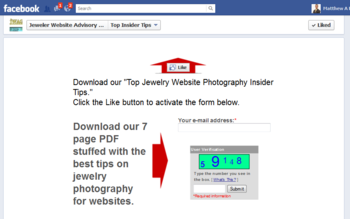 Facebook Reveal Page.

GlitterPaw Software has a Facebook Reveal page available as a Facebook application.

The screen shot to the left shows the reveal page. You can view a live version of the Facebook reveal page here to see how it functions yourself.

Multiple forms types are available for the reveal page so you can collect different user information.

The result is that you get more people liking your FB page while at the same time you collect real email addresses in exchange for whatever offer you provide.